Virtual PBX (VBX) from ECN offers a high quality communications service. With its advanced PBX features and being permanently "on" in the cloud, Virtual PBX from ECN gives your business a leading advantage.
What is Virtual PBX? This is a telephone switchboard systems that runs off a PBX system hosted at the Internet Service Provider and operates through cloud technology.
Eliminating the need for expensive and complicated equipment, whilst offering you a future proof technology roadmap, the Virtual PBX can replace your traditional PBX and will provide the functionality needed to operate your business seamlessly and professionally.
Cost Savings

Virtual PBX requires little to no complex expensive infrastructure to purchase or set up as it uses an Internet connection to deliver your telecommunications. These systems also poses fewer expenses in the form of repairs and downtime often imposed by legacy systems' in-house maintenance.
Absolute Flexibility

A virtual PBX enables your communication requirements to grow seamlessly with your business. In fact, the hosted solution enables businesses to add phone lines, extensions and even connect to mobile devices without facing the limitations imposed by "old style" phone systems' hardware.
Advanced PBX Features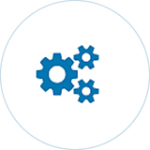 A virtual PBX services host video, voice, and data conferencing, a company can achieve remote collaboration without spending extra money on software or hardware. Moreover, virtual PBX systems provide an online way to track call data, which can assist with billing and budgeting.
Other Benefits
Scalable technology
Reduced costs
Reliability and redundancy
Low up-front capital requirements
Lower maintenance costs
Seamless multiple location platforms
Automatic upgrades
Superior voice quality
Download the PDF Brochure below: