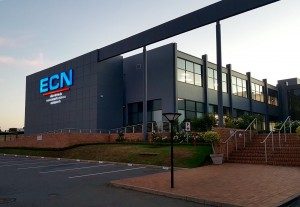 ECN Head Office in Midrand
ECN, being one of the fastest growing businesses in the Reunert group, got the go ahead to move into new premises earlier this year. There was great care taken to ensure that each and every aspect of the new office was exactly aligned to the vision and aesthetic flow that would complement the already close-knit culture of the ECN family.
Says Andy Openshaw, Chief Executive Officer of ECN; "Our core aim was for the flow of the building to match the structure and growth of the company, its open-plan design and focus around a central social hub in the middle of the building, allows for excellent interaction and collaboration across the business and fosters an entrepreneurial spirit within ECN."
The building itself, based in Midrand Johannesburg, was previously the Nashua Mobile building. This building was completely stripped and then redesigned and constructed in order to maximise the use of available natural light, improve the energy and flow, effortlessly introduce and incorporate growth and most importantly to make the staff and clients of ECN comfortable, happy and engaged.
"The investment from Reunert in ECN's new offices is a testament to their belief in the business, the successful growth thereof as well as the future capabilities it has. It has given us as a business exceptional motivation to attain even greater heights than we have already achieved" says Openshaw.
With its first offices of less that 1000sqm's in Rosebank 5 years ago, to a current space of more than 4000sqm's, ECN has come a long way and deserves every bit of the calm, bright, sleek and beautiful workspace it has so carefully crafted.
ECN is a leading player in the delivery of affordable and accessible converged voice and data solutions that are at the forefront of the next generation network. Contact ECN today for all your business communication needs.