If your current communication system is simply not meeting your small business needs, then you might want to consider a PBX telephone system. With its innovative features, the PBX system offers the right communications solution for small businesses in the current climate. Here's how…
What is a PBX system?
A private branch exchange (PBX) telephone system is operated by an outside supplier, enabling small businesses to use external telephone lines at a significantly reduced cost. Originally using analogue technology, PBX communications systems now use digital technology whereby digital signals are converted to analogue for external calls.
What are the options of PBX systems for small business?
To give you an idea of what you can expect with your PBX system, here's an overview of the four different types available.
1.     Analogue PBX system
This has been a tried-and-tested telephone communications system for decades, which used to handle fax transmissions as well. This PBX uses traditional copper telephone lines so they are really only necessary in remote locations where internet access is severely limited.
2.     VoIP PBX system
This newer type of PBX technology builds on the analogue PBX system with some additional features. When it comes to digital communication solutions, it's a more cost-effective option that suits small business needs. This PBX uses internet protocol whereby voice is converted into data which is then transmitted via the internet and converted back to voice for the receiver on the other end.
3.     Cloud PBX
Also known as hosted PBX, cloud PBX also uses an internet connection but you don't need on-site equipment – beyond your actual phones and the broadband internet connection. An outside supplier will route all incoming and outgoing calls. For small businesses wanting scalability, cloud PBX is a great option as it supports conference phones and smartphones.
4.     On-premises PBX
This is another form of hosted PBX systems that uses voice-over IP technology to manage your business telephone system. The outgoing and incoming calls are all managed on-site, and the internet connectivity supports mobile devices as well. This is generally a costly option for small businesses upfront, but it does mean reduced monthly costs once paid off.
Benefits of PBX systems for small businesses
Once you've selected the appropriate PBX system for your business, you'll start to enjoy the many benefits associated with this type of communications' system. Some of these include:
Cost savings
When you choose a cloud-based PBX system you have significant cost reductions in call costs, and you don't have the added expense of on-site hardware and ongoing maintenance. There will be initial set up costs, as well as ongoing operational costs, but overall, this is a much cheaper solution for small businesses.
Mobile access
Your hosted PBX system supports the remote working conditions that are becoming so prevalent today, because businesses can operate using mobile devices. Smart devices can even mimic handsets, meaning employees are accessible at the standard extension number with access to the PBX features.
Secure systems
All digital systems require increased security to protect against outside interference and malware. Cloud-based PBX systems have specific security features such as encryption and device authentication that make the connections much more secure. Your PBX supplier will ensure regular security updates are performed.
Scalability
As mentioned, your small business operation might have big plans for growth, and a hosted PBX system is a scalable option that grows as your business does. You can add new lines and features as and when needed.
Advanced features
Even if you're a small business, a PBX system will offer you advanced features that allow you to operate on a grander scale. These include call transfer, voicemail, auto attendant, remote user connectivity, and voicemail to email among others.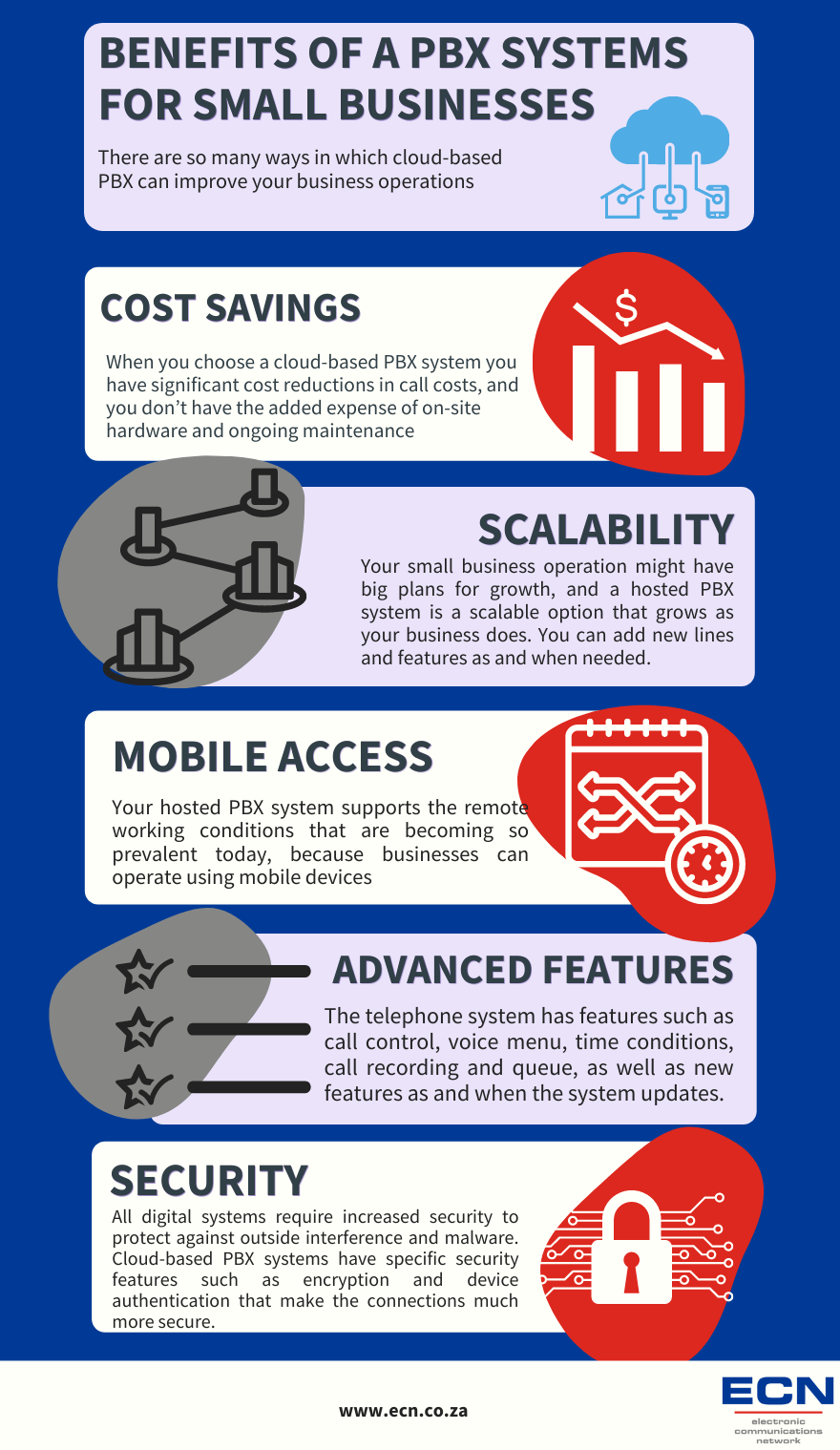 To find out what the best PBX system would be for your small business needs, contact ECN today. As market leaders in voice solutions, we're able to tailor a communications system that is the perfect fit!