If you're in the fortunate position of expanding your business operations, then you have a number of logistical considerations to go over. One of these would be which form of communication technology to incorporate into your growing empire. VoIP is one of the leading options for modern business as it allows you to scale up (or down) with minimal fuss or cost. If you're still not sure whether VoIP is for you, read on for some convincing!
What is VoIP?
First things first – VoIP (Voice over Internet Protocol) is an internet-based telephone service used in many workspaces since it was introduced commercially in the 1990s. Rather than relying on traditional telephone lines, VoIP uses internet lines that digitises conversations for speedier, clearer and more cost-effective communication.
Why does VoIP suit a growing business?
Businesses don't remain stagnant, they either decrease in size or they (hopefully) expand. Because of this, it's important to use adaptable communication systems that meet these ever-evolving needs. Here's a look at why VoIP is the best solution.
     – It's scalable
As your business grows, your customer-base increases and your staff needs spike. But more employees mean more phones are needed to interact internally with staff and externally with clients. With VoIP, this is no problem as you just have to buy new phones, contact your service provider, and you're hooked up.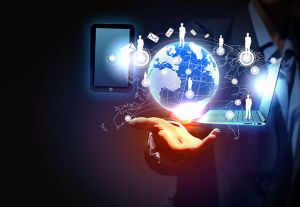 – Handles higher volumes
The more customers you have, the higher your call volume is likely to be. You don't want to risk disappointing and losing customers by missing calls or keeping customers on hold endlessly. This is why VoIP is a great option. VoIP systems can cope with the rise in call volume with various features – such as auto attendant, automated rerouting and call queuing – to assist with increased calls.
     – Easily transferrable
With business growth, you're likely going to need move to a new premises which means relocating your communications' system as well. Moving traditional landlines requires technicians to come in and physically move your telephone lines which is a costly undertaking. With VoIP you can just take your phones and plug them into your new premises.
     –  Suited to global reach
If your operations are expanding across borders, then you're going to need to accommodate international calls which can become excessively costly. However, with a VoIP solution, your voice communication is transferred over the internet rather than traditional lines so there's no need for expensive hardware or installations. Connect with your international clients at a reduced rate and minimal interruptions.
     – Remote connectivity
The rise of the hybrid office with remote working has placed new demands on businesses, with constant connectivity a requirement. Many VoIP providers will have a mobile phone app that can connect staff directly with the system wherever they are. This means ingoing and outgoing calls can be navigated from any remote device.
     – It's easily integrated
Many modern VoIP systems can integrate with other business operations, such as customer relationship management (CRM), to vastly improve your business operations.
What are the other benefits of VoIP?
This communications' system is best suited to your growing business needs, but VoIP has so many other advantages that make it a leading choice in business.
     – Enhanced call quality
With video calls and conferencing now the norm, you need a system that will ensure uninterrupted voice quality to maintain your operation. VoIP offers impressive voice quality – exceeding landlines – with reliability part of the package.
     –  Lower costs
As mentioned, VoIP saves you money in a number of ways. Firstly, the lower initial costs related to equipment and installation. Secondly, there are no maintenance costs so you're saving even further. Finally, the call costs are much lower so you continue to save the more you use it.
     –  Call analytics and reporting
Another great thing about VoIP is the insight you have into your business data. Using VoIP, you can track various elements including:
Number of inbound calls
Number of placed calls
Call tracking (which numbers are dialled)
Total number of missed and answered calls
Total call volume
The time of day you get the most calls
Call source
     – Advanced features
If your business requires it, you can even opt for more advanced features with your VoIP system which maintain a professional appearance. These include:
Voicemail
Caller ID
Call conferencing
Call waiting
Call forwarding
Choosing a PBX System for a Small Business. 
It's clear that VoIP is the best solution for your growing business, but it's important to partner with the right provider. ECN provides you with a cost-effective, data-driven communication system that will meet all your businesses expanding needs.